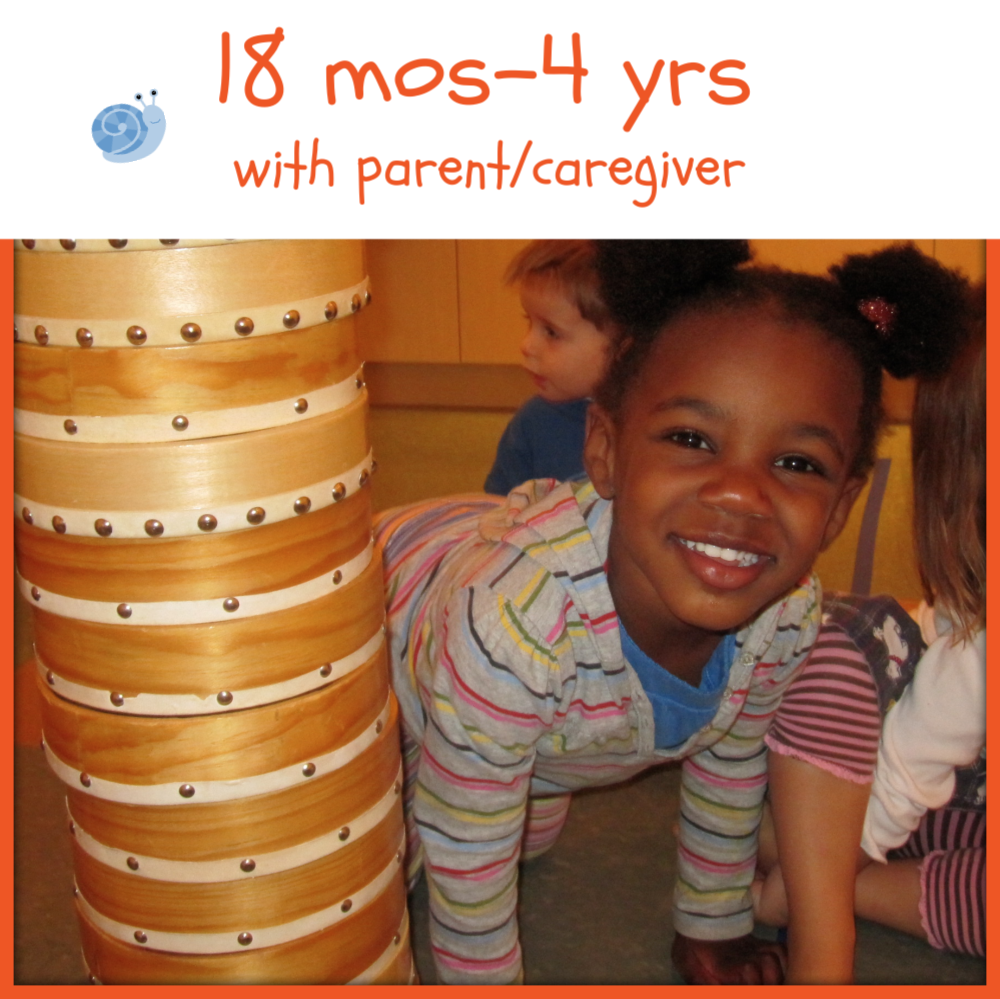 18 months to 4 years
with parent/caregiver

Each child enjoys the class with one or both parents (can be a grandparent, aunt/uncle, nanny, or adult friend too!).
45 minutes classes, class size 8-9 children with parent
Multi-age groupings may include:
ages 18 mos to 3 years
ages 3 and 4 years
We nurture all areas of development through music and movement.  A huge variety of activities are offered in ways that reflect the growth occurring in the different age groupings.
Growing Grounded for 3 & 4 years
The Growing Grounded program for 3 and 4 year olds (with parent) is created for children developing capability in more cooperative kinds of activity and who are increasingly vocal in making choices for themselves.  Classes are planned to reflect these evelopmental changes.
We explore speically designed creative music writing experiences and increase our use of musical terminology (crescendo, decrescendo, piano, forte…)
We increase imaginative play and movement stories.
It's fun!
You'll laugh and enjoy this too!
Researched benefits include
Speech and language development
singing
chanting
creative movement
whole body movement patterns
games
puppetry
Musical ear and musical eye-training
melodic patterning
rhythmic patterning
vocal play
instrument play
mime
listening activity
book and storytime
creative baby music notation
develop & increase attention, memory and auditory perception
Nurturing a natural confidence
imaginative play
conversation
sharing of idea
exploration of instruments from around the world
ensemble playing
Creative movement, dance and Rainbow Kids Yoga nurture gross motor play

sensory release
core development
coordination
creativity
The mind has
an inherent neural language
– a language that can be accessed through music
and can promote a child's brain development.
(Diamond & Hopson, The Magic Trees of the Mind)
Coordination, language and joyful socialization 
dancing
free dance
creative dance
folk dance
circle and line dances
instrument play
bouncing games
fingerplays and partner play using childhood rhymes, puppetryI
increase fine and gross motor skills
nurture self-esteem
modelling cooperation
build confidence to be in a room with folks who are not in the immediate family
nurture spatial relationships
agility
strengthen balance
Development of beat competency & rhythmic play
with an enormous variety of small percussion instruments
movement props
ukulele
Orff orchestra
large drums
These kinds of activities directly affect a child's ability to learn in school and also affect their small motor control…for instance…using scissors and pencils.
Current research suggests
that learning & developmental activity
done through rhythm & movement
has a huge and lasting impact
on very young children
and is precisely the way the brain wires itself most effectively.
"This is my children's favorite thing to do all week.  Susan has the capacity to draw out a love of music in every child!  She is like a real-life Pied-Piper for children.  Susan always greets the children with a smile.  She is always patient and encouraging. She manages to keep the kids engaged without having them run wild and lose focus.  This class is worth every penny!  There is no other program for young children that offers as much.  Susan works her magic with the kids and that is what brings us back."
"Susan is an unbelievable teacher – she IS the Musicalia program.  Curriculum is important, but without the right teacher it isn't enough.  Susan is very intuitive – she knows exactly what my children need and provides it for them so that their participation, engagement and success during each class are guaranteed."
"When my son was about 2-1/2, he started losing interest in music classes (he had been taking them since he was 6 months old).  That is when I discovered Musicalia.  Susan was highly recommended by several people, some whose kids are now in university (is that possible??!) so I decided to give it a try.  My son's class consisted of 8? 9? Two-and-a half year old BOYS and one girl.  It had chaos written all over it.  Much to my surprise, my son and all of the other kids were 100% engaged from the minute the class started until the time it finished.  Transitions were seamless and the lessons were just so much fun.  My son is now 4 and still loves it and enjoys the classes with many of the same children he started with.  Thanks, Susan!"
"Susan's energy is amazing.  She enjoys her work and her passion for music, kids and creating all shines through!!"
"This is a WAY of being with music, not a way of doing music.  Not only is Susan a master educator, but also she is a gentle soul who knows how to connect meaningfully with her students to create a caring, rich, dynamic learning environment.
"Susan is extraordinary at sensing and molding the tone of the class.  I appreciate that she uses the interests of the children to shape the flow of the class.  I've been in other programs where when the drum time is over, or if children are wandering or focused elsewhere there isn't a cohesion to the class.  Susan masterfully uses that type of momentum to draw the children in and aim the musical experience toward where the children are at, not where the program has set.  She's so gentle and intentional with the children; it's a beautiful thing to see how the children flock around her to see what she will do next!"
"To me, Musicalia is more than just "music lessons".  It's a place where my children are discovering the voice of their souls which is invaluable.  It's done with such excellence.  I couldn't imagine going anywhere else."
"We love your class – it is such a wonderfully rich musical experience for our little ones.  Our son doesn't willingly leave his Lego table for many things but he does for your class."
"Susan is capable, talented and dedicated. She treats every child with respect and love. She nurtures the individual child, encouraging their strengths and developing their weaknesses. Classes are exciting, engaging, fun, interactive, structured but with freedom of movement and expression. My children have benefitted in so many ways. They have gained independence, friendships, been exposed to music of all genres, experienced instruments in a controlled environment and developed confidence. She has fostered their love for music."
"It's the whole experience which when I sit back and take in, is so moving. Kids moving, creating, learning, playing together. Susan is so aware of child development/brain development and how you incorporate great, focused, energized classes with fantastic management skills."
"Musicalia goes beyond music and movement and encompasses socialization, learning and fun and play as learning. Susan's enthusiasm and passion separate her from all other programs. This isn't her business, it is her calling. Classes are a fun experience that keeps changing and never gets routine. We've tried other programs and honestly there's no comparison. Others were routine and boring. Musicalia TRULY combines music & MOVEMENT. Above all, she engages children on their terms and doesn't force them to be mindless singing and clapping drones."
"The pre-K programs are fabulous! All three of my children have absorbed the wonders of musical beginnings here through play. It's truly something to discover that music is more than just an instrument, but movement, feeling and sounds all around. To observe that wonder in the toddler stage is awesome; they begin understanding the language of music as a whole body experience not just limited to something external from themselves. I think to know that so young frees music to be a natural part of you."
"Susan knows how to ride the ebb and flow of authentic and natural learning with astonishing ease and grace. She knows how to inspire each child – the perfect amount of tenderness and toughness to help them connect with and to awaken them to their inner music."
"Susan rocks! Classes are filled with lots of movement and involvement of imagination and creativity."